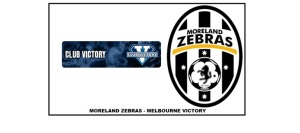 As part of our Club Victory Program( Melbourne Victory) Moreland Zebras are excited to announce that Moreland Zebra junior players will have the opportuity to be involved in the following activities,
1st March v Wellington Pheonix – Match Day Mascots.
20 Lucky Players will walk out both teams onto AMMI Park.
10th April v Newcastle Jets – SSF Half Time Activities
20 Lucky Players will play Small Sided Football during the Half Time break.
Morelad Zebras/Melbourne Victory Day
We will be holding a MZMV day either on both or one of the games mentioned where we will make it a day out for 100 junior players enjoy the game activities next door to AMMI park that Melbourne Victory supply and then watch the game.
Information on how the selection process takes place will be announced during Pre Season.
We endeavour to give all our players opportunities to take part in these activites sharing the opportuity.
Please click on pdf attachments for flyer information
CLUB VICTORY PROGRAM 2015 MASCOTS.pdfCLUB VICTORY PROGRAM 2015 pdf.pdf